Almost There
I'm beginning an exciting new schedule that I've been waiting to try for some time. This week I'm implementing a six-day week of 28 hour days, going asynchronous with the rest of the world and living on my own clock. The rationale for this is that it allows you to work in long blocks of time and increase efficiency, and actually synchs up reasonably well with the times of the week that are important. I've joked about trying it for a while, but now's the only opportunity that I've had where I'm working entirely on my own and set my own schedule, and it never gets dark. We did a pretty good job of doing this accidentally while working 18 hour days in Greenland, but I'll be trying to stick to this schedule more rigorously. See this XKCD for reference: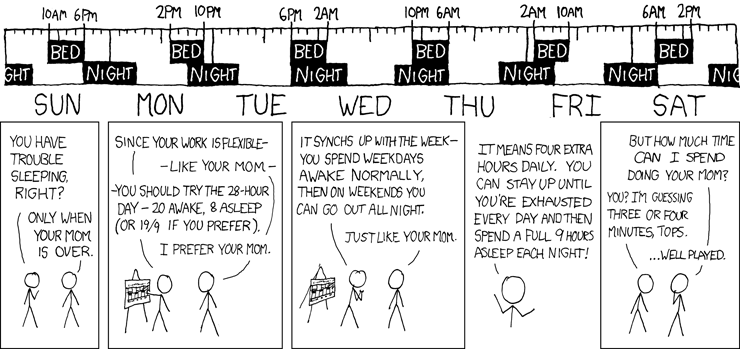 After getting back from Happy Camper training on Saturday, we had an all hands on deck meeting in the McMurdo Galley because the whole station is facing a housing crisis. Apparently there are 150 extra people that will be coming at the height of the season, and this means turning some double rooms into quintuples. We're not affected by this since we're considered 'Beakers,' and have our own building. A number of people, however, have made this their permanent home, and have lived in one room for eight or more years and don't have a home in the US. Now, some of those people are being given roommates, and there's a significant amount of drama beginning to unfold.
On Saturday night, I went to my first party at one of the shops here, and was surprised to find about 100 people, lights, and multiple bands on stage. The ratio of support staff to scientists is something like 10:1, with about 1000 people here as mechanics, dining hall workers, carpenters, and pilots among others. Many of the twentysomethings I've met here describe it as a summer camp for adults, though I've been working bizarre hours and haven't to spend much time socializing. It's also been described as a caste system with the scientists on top, and being a grantee gives you a surprising amount of clout. I exist somewhere in between since the South Pole Traverse is considered a Technical Event, but I feel pretty lucky to be down here and working with robots. There are a surprisingly large number of DAs (dining assistants) and carpenters with an M.S., and I met a girl last night who just came back from a Fulbright scholarship working on public health in India and will be spending the whole summer season shoveling snow off of pipes but is incredibly excited just to get to be here.
I've only got one good photo in this batch, the sunsets here are consistently blowing me away. This one is looking out over the Helo pads towards the Transantarctic Mountains.
I've debugged most of the robot code and fixed an issue with the GPS today, and built a set of debugging tools that will help streamline the process of debugging Yeti in the field. We're all set up for our first autonomous run tomorrow morning, so I'm crossing my fingers that all goes well. We're planning to deploy to the shear zone to begin mapping crevasses on Friday, so we still have a few days to work out issues and make improvements to the code (and there are many to make). The orientations are endless, and I'll hopefully be fitting in the testing around the eighth or ninth orientation, this one about environmental sensitivity. I've already had three on safety, one on base protocol, two on recreation policies, one on driving, two days of survival training, and one on sorting trash. Later this week I'll cap all of the sessions off with crevasse rescue training out on the ice which actually stands a chance of being fun and interesting.